• Easter Resource Guide
In order to help you plan for Easter, Kidology.org has put together a helpful Easter Resource Guide to showcase the wide variety of Easter Resources that are available for you to make the most of this special holiday. Hey, check out this Resource Guide, you might be glad you did. Also, be sure to also check out the Easter Zone which is PACKED full of Creative Ideas for this season.
Plus, if you haven't already, be sure…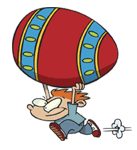 Be Sure:  to UPDATE YOUR NEWSLETTER SUBSCRIPTIONS and select the all new "Kidology Weekly Update" so you get our brand new Monday E-mail which includes the return on the Manic Monday deal that is exclusive to that newsletter!
We want to add our support to what Karl Bastian says…"Just trying to help you make this EASTER to BEST YET!"